Paramotor SR SKY 1.1S sport-steel with flex S-bars
Power unit based on the new Italian engine SKY 1.1S is a paramotor with extremely high thrust.
The cage consists of 2 sectors.
The diameter of the cage = 137cm.
Read more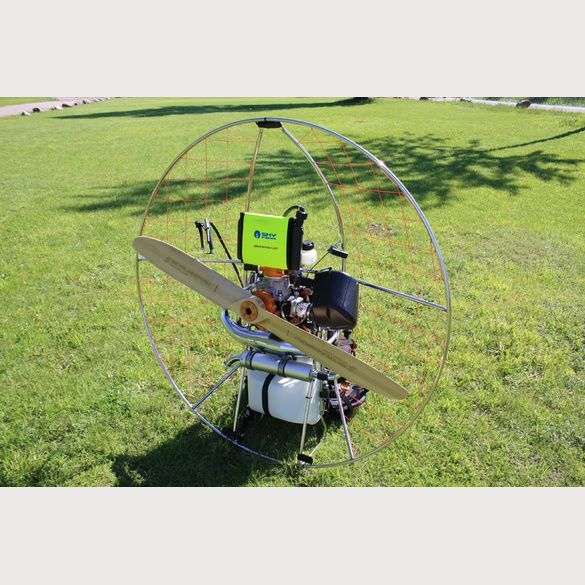 Specifications
Paramotor weight, kg
25,6
Engine type
SINGLE-CYLINDER 2 STAGE ENGINE WITH LIQUID COOLING
Fuel tank
Plastic for 10/12/18 litres by Robomecc
Reducer
MECHANICAL 1:4 OIL LUBRICATED
Propeller
wooden 2-blades prop 125 cm
Frame/Cage
stainless steel, diameter of the cage - 137 cm
Recommended pilot weight, kg
90 - 120 kg
Static thrust, kgs
70 kg with a wooden prop 125 cm
Power, HP
26 HP at 11200 RPM
Fuel
MIX FUEL AND PREMIUM QUALITY SYNTHETIC OIL FOR 2 STAGE ENGINES WITH A 3% RATIO
The frame and the cage are made of stainless steel, providing high strength and increased life of the structure. Metal accessories of the suspension system (carabiners, buckles, locks) are produced by Austrian company AustriAlpin.

Attention! The price is for the complete set with a wooden propeller!
The cost of the complete set with a carbon propeller check with managers.
With your paramotor you will get the set of covers: for the frame/engine, cage and propeller.
Version with fixed J-bars is also available for order.
Do not hesitate to contact us!
We will be glad to help you
You can contact our managers by phone +7 (8112) 75-12-34 from 8am to 5pm (UTC +3), or by e-mail info@skyrunner.ru and sky@skyrunner.ru