PPG-KIT, titanium
The basic kit includes:
- Steel frame with all bolts and spacers;
- Suspension system;
- Fuel system with a tank and a fuel pumping bulb;
- The propeller with a cover;
- Engine Throttle and wiring;
- Carabiners and manual starter cord pulley.
Read more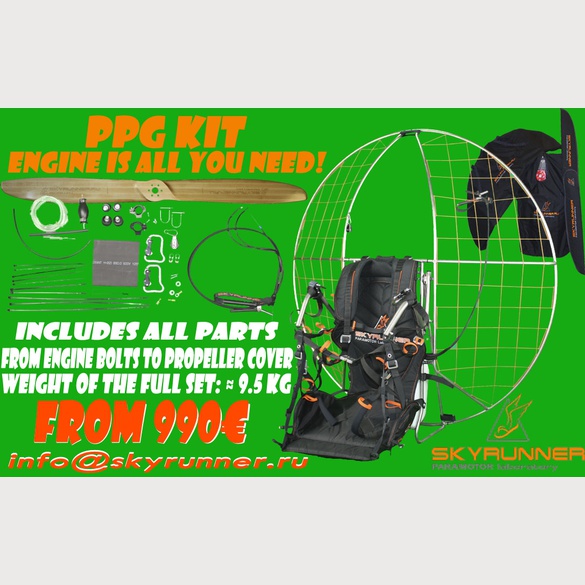 PPG KIT is a set of everything you need in order to assemble a paramotor and go to fly!
Its composition is optional and everyone can choose a kit for themselves.

By purchasing PPG KIT, you win by purchasing a proven and adjusted kit, as well as all assembly work and consumables.

The cost of the basic kit is 1190 €

Everything is installed and assembled, you just have to install your engine and connect the throttle and fuel system.
PPG KIT - engine is all you need!

For more information, please, contact our managers!
Do not hesitate to contact us!
We will be glad to help you
You can contact our managers by phone +7 (8112) 75-12-34 from 8am to 5pm (UTC +3), or by e-mail info@skyrunner.ru and sky@skyrunner.ru